Joined

Jan 26, 2021
Messages

1,234
Reaction score

1,276
Location
I decided to share my own personal user experience and initial observations of the Autel
EVO II
Pro 6K after having flown it for the first time. During the first flight I went through all 3 batteries and mainly focused on the camera features, the app, and how the drone itself flies. I also put it through a range of different tests that I have developed over the years of owning DJI drones. My sole use of drones is for commercial work; everything from promo videos to real estate to music videos, large events and more. So the tests that I put my drones through is in preparation to use them in many different situations where the success of the project depends on the drone being reliable and delivering on the client's image quality expectations.
Background
I have flown or owned every DJI model since 2014 and never even considered another maker until DJI's geofencing kicked in mid flight 2wks ago and force landed my Mavic Pro into the ocean. So some of this review will be comparing the
EVO II
to the DJI Mavic Pro or the P4 since the P4 also has a 1" sensor. I'll keep this post updated as I find new good and bad things.
The Bad
I have decided to start with the bad since it is a shorter list than the good.
The Good
Wish List
Other
This is just general information that I'm finding out on my own as I use the
EVO II
. These are things that either are impossible to find in the documentation or that aren't documented at all.
The Verdict
As long as the
EVO II
continues to perform exactly as it did during its test flight today then I am happy with my purchase; once again because the completely oppressive geofencing system is gone. I am sure Autel will continue improving the app and the drone and as long as the drone does not do something that is completely beyond my control then it could easily become my main drone in the future.
Other Potentially Useful Information
Why I Never Shoot Video At 24FPS
Why I Never Use CPL Filters With Drone Cameras
Autel EVO II Pro - User Experience from a DJI User
EXPLORE YOUR WORLD: An Autel EVO II Pro 6K Cinematic Story
Why I ALWAYS use Daylight WB with Drone Cameras
Why I NEVER use LUTS when Primaries Grading
New
(24 March 2021)
I created a camera campaign style video with the
EVO II
entitled "Explore Your World". Despite all of its shortcomings, it is definitely possible to create amazing footage with the
EVO II
6K.
New
(4 April 2021)
The image below was shot at F2.8 | ISO100 | Shutter 1/5s | WB Auto | Format RAW. To the human eye it was nearly pitch black outside. Yet the EVO II 6K camera was able to retain an incredible amount of color information.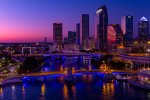 Last edited: